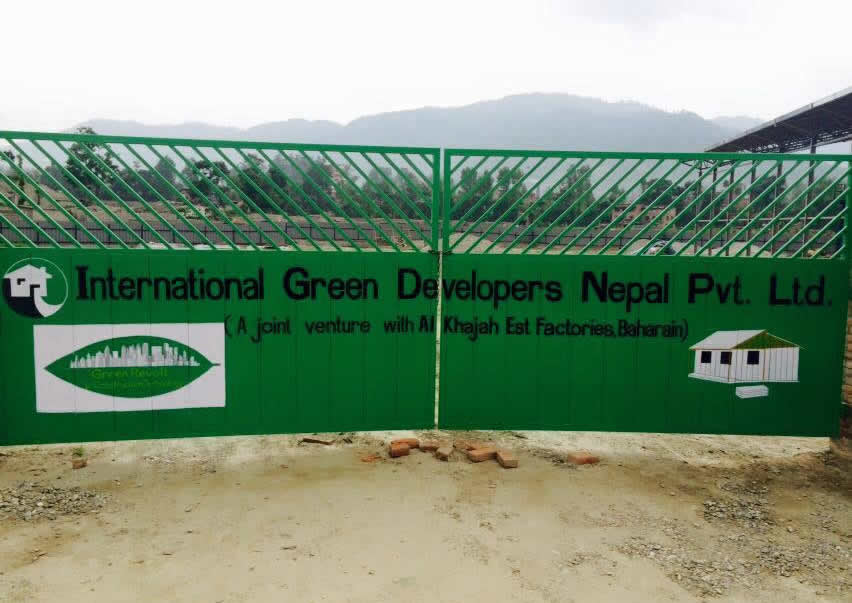 International Green Developers Nepal Pvt. Ltd. (IGDN) established in 2014, joint venture with Al Khajah Est. & Factories, Bahrain 'A Class' General Civil Contractor is the first manufacturer of Pre-fabricated (Prefab) building products in Nepal. Al Khajah has a wide spectrum of products from automotive to industrial equipment various building materials, lightweight concrete panels and cornices.

With Al Khajah's ages of experience in the construction and manufacturing of building materials through the use of world class German technology, As an outcome of many years of research and study IGDN has come up with more effective wall products, Gorkha Eco Panel energy saving, earthquake resistant, thermal, sound proof ... building product of the 21st Century.
IGDN has a state of the art Eco Panel(Prefab Panels) manufacturing facility at Jagati, Bhaktapur which has a production capacity of 500,000 m2 annually.

IGDN values the society, culture and custom. With our better understanding on environment and greater awareness of energy conservation, an energy efficient green product Gorkha Eco Panel has been introduced to Nepalese Society and it solely aims to produce and distribute high standard, green products in Nepal.
Gorkha Eco Panels
Gorkha Eco Panel is a light weight interlocking prefrabicated sandwich panel with the composition of Non asbestos calcium silicate board, Cement, water, Sand and Expandable Polystyrene (EPS), with significant features/advantages compared to other building materials. As such, a greater emphasis has been placed on the role of insulation,environmental protection,energy conservation... as still Gorkha Eco panel is economically feasible for construction.

Gorkha Eco Panels constructed Prefab house can be fixed in any weather, as their raw material contains a patented special additive, which makes them resistant to capillary spreading of water and which also considerably increases the life not only of the wall but of the structure as a whole. Gorkha Eco Panel not only reduces the price of habitable space, but also makes the living comfortable. Gorkha Eco panel in the class of light-weight concrete Expandable Polystyrene (EPS) is one of the lightest composites. The weight several times smaller than the weight of similar other construction materials. By using Gorkha Eco Panel for external and internal walls, the load carried by structural members becomes considerably reduced, consequently reducing dimensions required reinforcement and weight of these members which directly influence on the price of the construction. The patented tongue - and - groove shaping locks at the edge of the panel, making it easier to keep walls plumb and level.